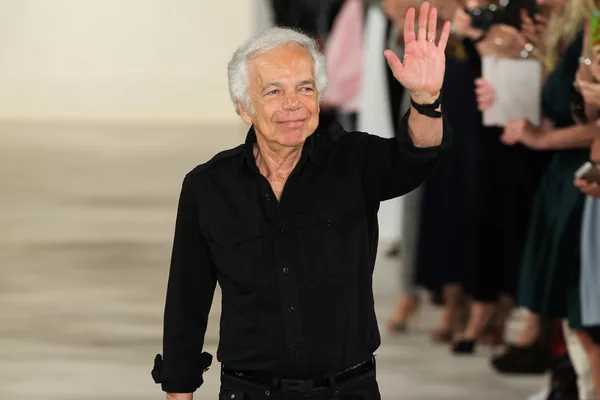 For its 18th year as the official outfitter of the US Open, Ralph Lauren is back with another collection for those on and off the court this season.
The campaign for the collection, which was just released last week, is comprised of a navy, green, yellow and white color palette, along with classic silhouettes reflective of previous collections. As Fashionista reports, the collection pulls inspiration from vintage Ralph Lauren polos, rugby-style stripes can be seen throughout almost every piece, also mimicking the lines that appear on a tennis court. Other familiar styles include varsity jackets, cable-knit sweaters, tennis skirts and more.
Ralph Lauren will dress more than 215 on-court officials and 400 ball crew members for the tournament. While the outfits won't veer far from the looks fans can purchase, Ralph Lauren will continue its sustainability commitment from 2022, making the official ball crew polo shirt out of yarn derived from recycled plastic bottles. For the second year, the brand will also partner with Wilson to collect plastic tennis ball cans during the event, which will be used for future fabric production.
Also for the second time, Ralph Lauren will be the official eyewear sponsor of the event, launching sunglasses in two new colorways (navy and tortoise) with frames featuring the US Open logo and Ralph Lauren's signature horse motif.
As Ralph Lauren writes on his site, "Tennis has always been more than just a sport. It's a celebration of tradition and sportsmanship on a global stage. We are endlessly proud to be a part of this special history, dressing fans and on-court ball crew and officials of the US Open, Wimbledon, and Australian Open."
The full collection is available now at RalphLauren.com and select Polo Ralph Lauren shops, and will be on-site at the US Open starting Monday, Aug. 28. Whether you're attending the tournament yourself or viewing from home, you can shop pieces from the collection below, ranging from $29-$248, and embrace your tennis-core dreams.
—
Photo Credit: FashionStock.com / Shutterstock.com